This smashed Brussels sprouts with pomegranate seeds recipe is perfect for a fall weekday meal, or even at the Thanksgiving table.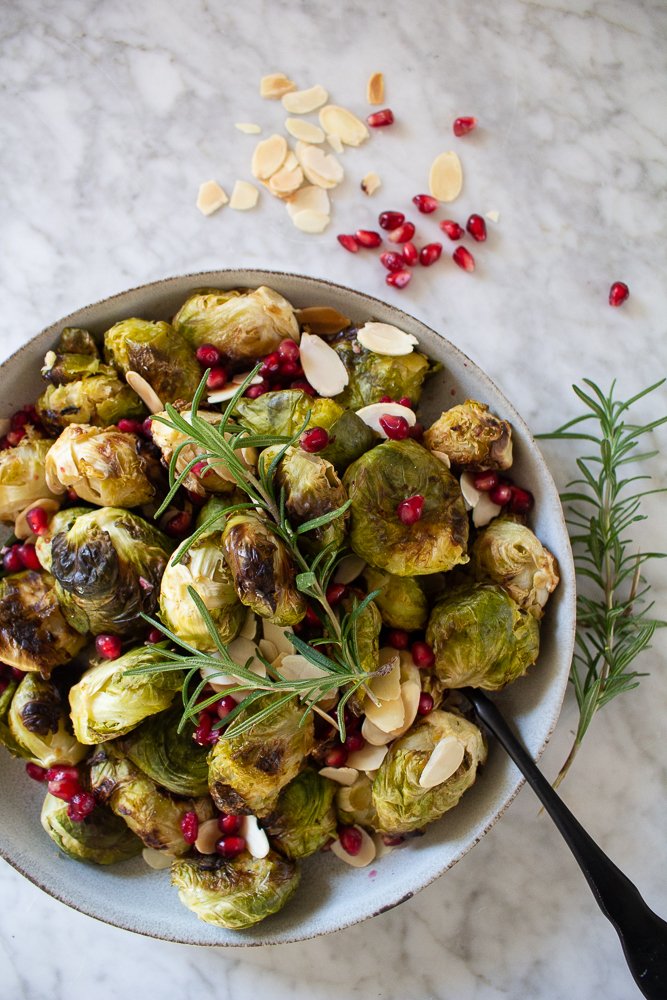 There's something about fall: fragrant rosemary from the garden, just waiting to be picked, copious amounts of Brussels sprouts at the farmers market, the need to roast things (it's a need, seriously), and the ever-gorgeous pomegranate (that I consequently want to put over everything). Lucky for you and me, this smashed Brussels sprouts with pomegranate seeds recipe all of that and more.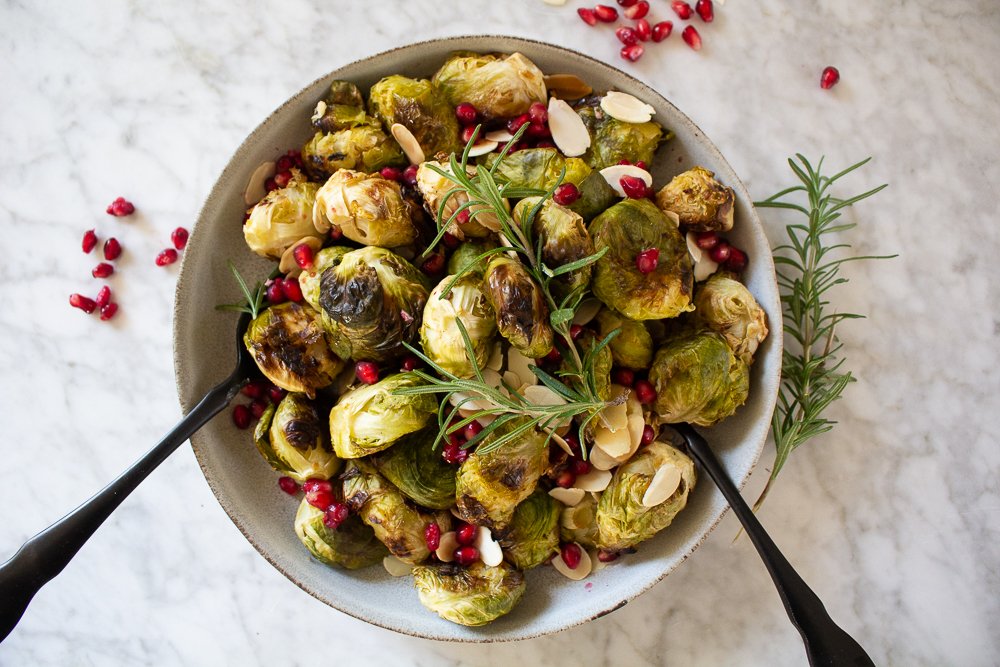 The whole smashing thing
I know you know about roasting Brussels sprouts, but have you ever tried smashing them? It's incredibly rewarding and fun, plus it allows the sprouts to cook well throughout and have a tender, buttery bite (just think, less chewing). You simply roast the Brussels sprouts almost to the end, then push down (using a bottom of a sturdy mug), and continue the roasting process until done.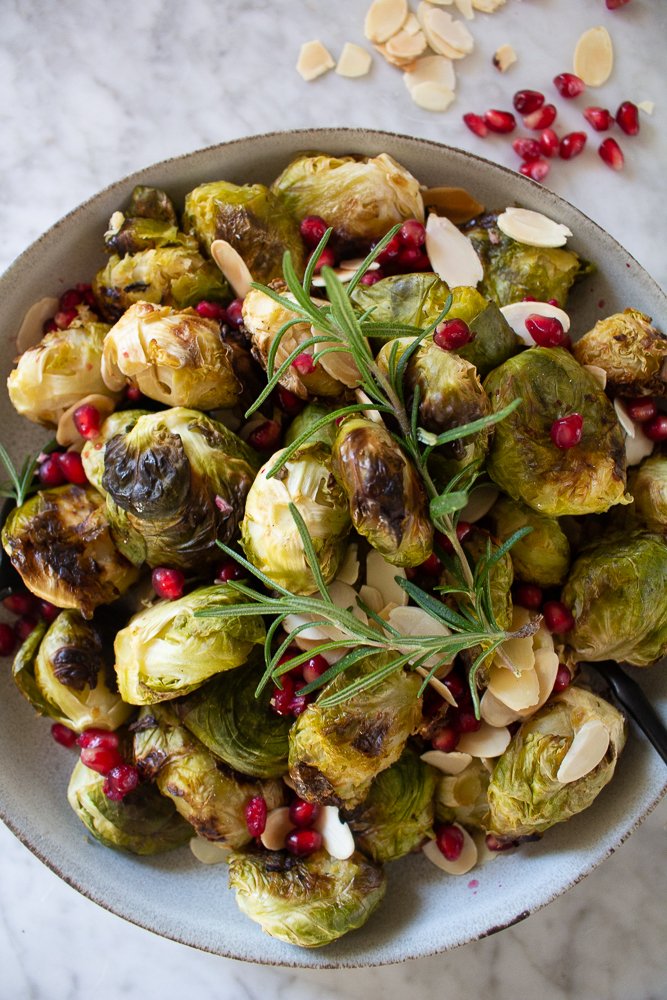 These Brussels sprouts are:
Tender on the inside
A little smoky
Seared beautifully
Hearty
Savory and Sweet
and simply delicious.
Trust me, you'll love it with your eyes and your fork!
Smashed Brussels Sprouts with Pomegranate Seeds Recipe
Vegetables
one 16 oz bag Brussels sprouts
Fruit
1-2 oz pomegranate seeds (to your taste)
Fat
a little spray of olive oil
2 oz slivered roasted almonds
Condiments:
Sprigs of Rosemary
Salt & pepper
First, trim the sprouts. Wash, cut off the ends, and take off the first layer of leaves, and cut out any bruises, marks, or dirty parts. Then, spray the sprouts with some oil, salt and pepper. Toss well.
Next, roast the Brussels sprouts (preferable in a cast iron, but a parchment-paper lined cookie sheet will also do) in a 400 degree oven for about 25 minutes. Shake the tray often so they cook evenly throughout. They tend to burn easily if unmoved.
Take the sprouts out of the oven, and use the bottom of a sturdy mug to gently push down on the sprouts, flattening them.
Return to the oven and roast for another 5-10 minutes, depending on the size of your sprouts.
Lastly, when they are done, top with the pomegranate seeds, almonds, and rosemary.
For those measuring:
The sprouts will cook down to about 14 ounces when everything is done, and will contribute to your veggie portion (you decide how much you'll use),
The pomegranate contributes to your fruit portion,
And the almonds constitute one fat portion.
Feel free to add more fruit and a protein to balance out your meal.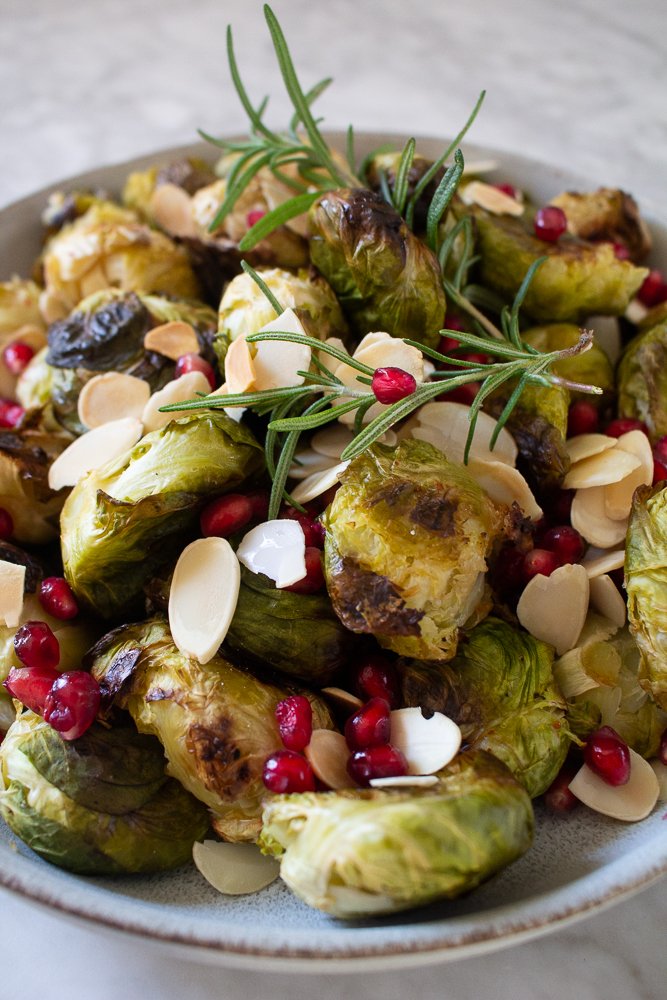 If you try this recipe, let us know!
Feel free to leave a comment below, rate it, and tag your photo on Instagram so we see it ~ #LittleBitesOfJoy. We love sharing fan favorites! Thanks, friends!
For More Fall Recipes, Check Out The Following!